Tired of talking to yourself on Facebook Lives?
These 7 tactics to increase engagement on Facebook Lives are ones you need to see.
IE 44: 7 Tactics to Increase Engagement on Facebook Lives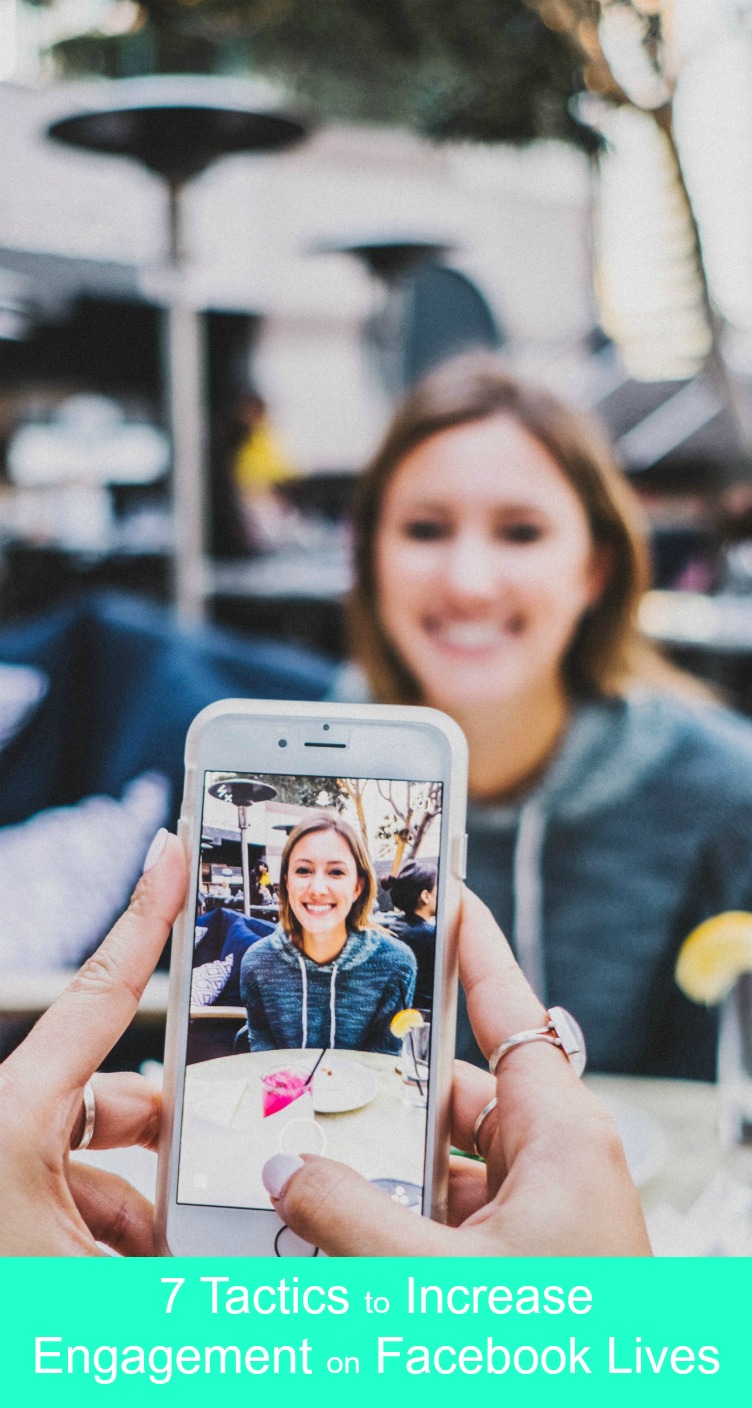 If today is the first time you have ever listened to my podcast, you may want to go back a few and catch up. I have spent the past few episodes talking all about why incorporating live video is so important to your business.
In episode 39, I talked about how live broadcasting makes you stand out as an influencer. In episode 40, I shared tips on structuring your live broadcasts to get the highest amount of engagement possible. Episode 41 was all about overcoming the fear you may have of going live. And in episode 43, I gave you tons of ideas for content for your live broadcasts based on your specific niche! (Episode 42 was a step away from talking about live broadcasting.)
Don't miss the free cheat sheet I'm offering! Go here to see my 5 favorite CHEAP tools for doing live broadcasts.

Once you're all caught up on those episodes, jump into today's topic, which is 7 ways to increase engagement on your Facebook lives. Let me paint a picture before I share the tips for increasing engagement…
You're doing a live broadcast. You have maybe 1 or 2 viewers, but they are just listening. They aren't commenting. You don't even know if they're even actually paying attention to what you're saying. You feel like you're talking to yourself. Ever been there? I have! And it's no fun.
So bookmark this post for later, because you're going to want to come back to it as you put these tips into practice. Now, let's get to those tips…
#1- Give the Highlight Reel First
When you begin a Facebook live, always start by introducing yourself and share the highlights of what you're going to be talking about. You want to establish your credibility before you tell them what they need to do.
If you'll notice, I always do that even when I begin a podcast episode. I told you at the beginning of this one that I was going to be sharing 7 tactics to increase engagement on your live broadcasts. You know from that highlight reel that there are 7 things I am going to share. You aren't left hanging, wondering when I'll be done or how many more tips I'm going to share.
One easy way to do this is by asking a question in your description of your live broadcast. Notice I did that at the beginning of this one; I asked, "Are you tired of feeling like you're talking to yourself when you do Facebook lives?"
I then answered the question by telling you about the tips I was going to share.
#2- Ask Questions
Again, I put these questions in my video description. Let's say I'm doing a recipe that day. I might say in my description, "Tell me your favorite ingredient for pancakes in the comments."
You want your question to be connected to what your broadcast is about, so don't use a recipe question if you're doing a parenting video. In that case, maybe ask them to tell you some of their best parenting tips. You can even get more specific by asking for parenting tips for a certain age or for certain behaviors.
Aside from asking for answers to your question in your description, you should also be asking questions during the broadcast. If you're doing a video on potty training, tell the audience to give you a thumbs up if they've used your tip and it worked. Or tell them to give you some hearts if they like what you're saying and they agree with you.
Live broadcasts are fairly new on the scene and while people are definitely watching them, they don't necessarily know how to interact with them. So tell them! Tell your audience what you want them to do and watch your engagement soar!

#3- Recap, Recap, Recap
When doing live video, recapping is necessary more often than you think. It's not enough to recap at the end of the video. You should be recapping at the end of each point.
Why recap so often? Simple. Because not everyone catches the live video when it begins. People come in and go out. If someone comes into your live broadcast 5 minutes after you started, you need to be sure they're caught up. The only way to do that is to recap often.
Another thing to share over and over is links to your site where they can find what you're talking about. If you're doing a recipe, be sure to tell them several times during your video where on your blog they can go to find the recipe. Don't just say it once and think everyone knows.
#4- Call Them Out
As you are doing your live video, call the names of people that are watching and engaging.
Even if someone isn't commenting, you can see the names of the people who are watching your video. Call them out! Say hello! If they are brave enough to comment, be sure to address their answer.
There are a few parameters I put in place here; don't stop your broadcast to call people out just to welcome them to the video. Say hello to those that are there at the beginning, and then only call out people as they interact with you as you share your information.
#5- Tell Them What to Do
At the end of your broadcast, you should be able to tell your audience what their takeaway is.
If you're sharing a recipe, tell them as you wrap up what you want them to do. For example, share your affiliate link in the comments to certain tools you used in the recipe. Remind them to go to the comments, grab that link, and what to do with it.
"Be sure to grab my link in the comments to get your own amazing zucchini noodle maker!"
People who take the time to watch you live want to know what they should do in response to your video. So, tell them! Tell them to purchase through an affiliate link or tell them to subscribe to your live feed. You're looking to increase their engagement with your content, and getting them to sign up for future videos is a great way to do that!
Let's talk for a minute about personality in branding. Your audience should know you so well that they can picture you using your hands to talk or raising your eyebrows. They should know your mannerisms and what to expect from you.
A great example of making personal connections with your audience is Lindsay from Pinch of Yum. Lindsay's readers know her for her stories and her audience is rabid for more. They keep coming back because they love what she has shared so far and they want more.
If you are a newer blogger and you haven't built up your platform yet or you don't have a ton of pageviews, live video gives your audience a chance to get to know you. They are more apt to come over to your site and share your content when they feel like they know you.

#6- Challenge Them
If you can find a way to hold your audience accountable for what you've taught them, they will continue to interact with you.
This is a perfect opportunity to promote a free lead magnet that you are offering. If you can give them a challenge and provide a way to follow through with it, they will be more likely to sign up for your email list.
Again, include a link to your opt-in in the description of your video. You have to be working on growing your list all the time. Algorithms continue to change and continue to draw traffic away from our blogs instead of toward them. You can't control the algorithms or social media itself.
The only thing you can control is something you own. And the only thing you own as of right now is your email list. Growing that list should be your #1 priority.
Make sure that the lead magnet you are offering is directly connected to the broadcast you are doing. Don't create broadcasts just to create broadcasts. Have a purpose! You should be gaining subscribers through your broadcasts, so make sure that your broadcast is connected to the freebie you are offering.
If you can't make a connection to an opt-in, it's not worth doing the broadcast.
#7- Edit the End Product
So you've done a live broadcast and you've followed all the tips I've shared in previous episodes of this podcast. Now what? It's time to edit.
You can edit many things about your live video. You can edit your title, your description, your calls-to-action, and your tags. Be sure you tag audiences that would be interested. If you are talking to moms, be sure that you tag them.
One more thing about this- not only can you edit, but you can repurpose! After you're finished editing, you can upload your video to Youtube. Or embed it in an existing blog post. You can also edit your video after you're done with it and before you share it. Make the video just right for wherever you're sharing it.
Okay, if you aren't a member of our Influencer Entrepreneurs Facebook group, go over and join us! I go live in the group every Tuesday at 11 a.m. and I typically talk about the same topic as the podcast. And be sure to subscribe to the podcast if you haven't already. We have seen a lot of growth recently and it's all because of you! You have generously shared it with friends and I am so thankful.
Lastly, please share in the comments below which of these tips you will implement this week and how it goes!

Don't Forget: