If you read the title of this episode and thought, "Wait, Jenny! I can't think about 2019 yet. I haven't even finished cleaning up the Thanksgiving dishes. I have yet to put up my Christmas tree or even buy the first gift. Why are you asking me to think about 2019?"
IE 98: Taking 2019 by Storm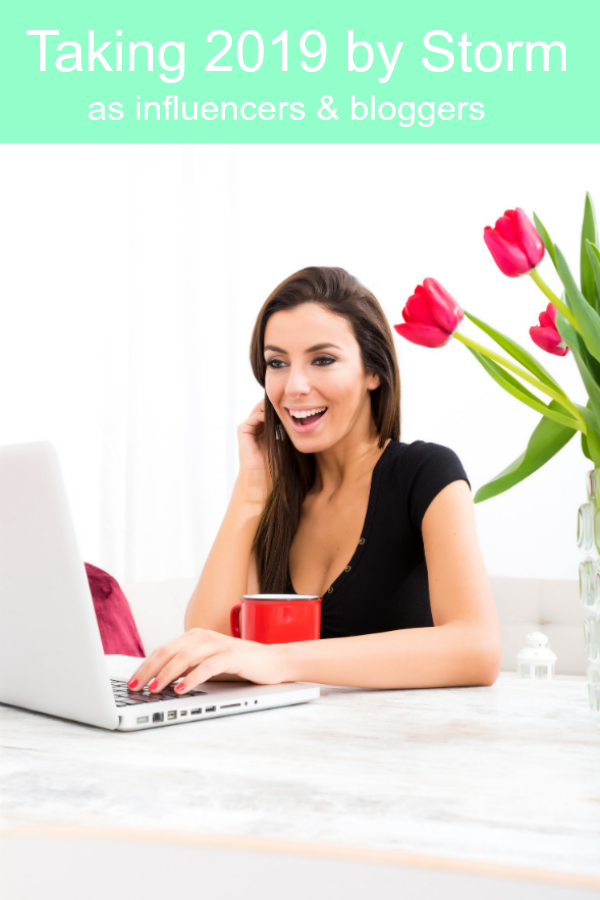 Listen, I get it. As the mom of 2 little girls, a husband who works in the school system, and a business owner, I completely understand. But I know this – you can't wait until January to start thinking about the new year. You need to start planning now in order to storm into the new year with a plan and a focus.
Can Your Business Function Without You?
The week that I recorded this episode was a week where I was stretched and challenged to see my business in a new light. You see, every Tuesday at 11:00 a.m. Eastern, I go live on the Jenny Melrose Facebook page. I do a live training for my audience every single week over there. But this particular week, I was sick. Sick as in, I couldn't talk, sick. And when you can't talk, you sure can't do live Facebook.
My assistant said to me, "Jenny, your business is really dependent on your voice." And it's true. When I can't talk, I can't do live trainings, I can't do coaching calls, I can't do Instagram stories. My business truly is dependent on my voice.
What about your business? What happens if you get sick or if circumstances keep you from doing what you normally do? Can your business survive difficulties? Do you have enough content created so that your blog can move along if you need a day or more off?
Let's talk about this and look at 4 things we can put into place to address this and to be sure we are ready to take 2019 by storm.
#1 – What Is Your Mindset?
Mindset is the most important piece of your business. If your mindset is wrong, you can work your fingers to the bone and your business will not be the success you want it to be. You have to have a plan of attack for your business and your mindset determines what the plan will be.
As a business coach, I deal with a lot of women and I find one thing to be the case in almost every woman I talk to. Our biggest struggle is imposter syndrome. We struggle to feel like we are smart enough or good enough to build a business.
We are also constantly bombarded by shiny object syndrome and that mostly comes because we don't keep our eyes on our own work. We look around at what other bloggers are doing and we think we have to do things the same way in order to have the same results.
Another thing that we as women have trouble with is asking for what we deserve. Studies have proven that women are terrible at negotiating for salary and benefits in professional careers as compared to men in the same roles.
I see this all the time when it comes to brand ambassadorships. Women won't ask for the compensation they deserve or they think that they don't actually deserve it at all.
Here's what I want you to do to help with your mindset so that you can storm into 2019 and build the business that you want and that you deserve. As soon as you finish listening to this episode, hop over and listen to episode 74 of this podcast where I talk about all the mindset crap you need to stop. I rarely speak my mind the way I did in that episode, so give it a listen.

#2 – Focus on What You've Got
I am specifically talking about time. Listen, I know your time is limited. I started my first blog when I was an inner-city school teacher with 2 daughters, a 3-hour commute each day, and a husband who worked long hours. I know what it's like to be stretched for time. I get it.
But what I want you to do is start focusing on the time you do have rather than the time you don't.
I've been reading a great book lately that's so good that I wanted to share with you using my affiliate link so that when you buy it, I get a little bit of a kick back from it. It's just that good! It's called Clockwork by Michael Michalowicz. The subtitle of this book is: Design Your Business to Run Itself. It's all about exactly how to build a business that can handle things if you get sick or if circumstances pull you away for a few days.
Just because you are a business owner doesn't mean you will never need to take a vacation. Wouldn't you like a business that will thrive rather than fold, even if you are away?
*Listen in at 10:30 of this episode to hear a practical action step you can take to get more control over your time.
One way to get more time is to stop doing the things that aren't working and haven't been working for a long time. Stop doing the things that someone else could do for you. Focus on the things that have the best ROI for the time invested and prioritize, prioritize, prioritize.
#3 – Setting Performance Goals
Yes, goal setting is something that you have to do if you want to take 2019 by storm. All the research shows that if you want to achieve your goals, you have to be serious in setting them and writing them down. I did an entire podcast episode on the difference between performance goals and outcome goals.
But maybe you aren't even sure how to set goals for your blog. If that's the case, you need to listen to episode 50 of the podcast where I talk about the importance of your why when setting your blogging goals.
I have begun speaking more publicly recently about my mission for my business. I want to help the women who reach out to me or listen to this podcast reach their goals. Many of them have daughters or nieces that they are influencing and I want these girls to see their moms or female family members not only spending time on a small business, but as business owners.
When I began my blog, my goal was to spend more time with my girls and my husband. That 3-hour commute I mentioned, along with the work I had to bring home as a reading specialist in a huge district in New York, meant that we spent almost no time together as a family. Evenings and weekends were spent working and even if I wasn't working, my husband was spending his time at a sales job that he hated.
So my first goal was to get our family time back. Now that I have hit that goal and our family is together so much more thanks to my business, I want to help other women achieve their goals. But in order to achieve those goals, you have to know your why.

#4 – Find the Women Who Will Be the Wind Beneath Your Wings
Yes, I did just reference a song from the 80's. The importance of having a tribe of women who will lift you up can't be overstated. We need these women in our lives.
You need women who get it. Women who feel the pain of building a business when you are tired, when your kids are sick, when you're discouraged. Women who will say, "I get it. Now get off your butt and let's go." Women who won't put up with your excuses but will pull you along and fan the flame within you.
One of the best ways to find this tribe is to attend live events. I have had the privilege of speaking at a ton of events in 2018 and my favorite thing to do at these events is to meet face-to-face the women who are my tribe. For 2019, I decided to take the next step and host my own live event where I can hug the necks of the ones who lift me up and where you can begin to build your own tribe of women.
If you need to begin building a community of women who will support you, encourage you, and hold your feet to the fire, I hope you will attend Influencer Entrepreneurs Academy in Charlotte, North Carolina in 2019. The event will take place April 2-4, 2019.
If it's still cold where you live in early April, come on down south where we will kick off the weekend with a cocktail cruise on beautiful Lake Norman followed by 2 days of trainings and mastermind workshops.
I hope you all will join me for this weekend and start building your tribe!
Action Steps: