Is the time right for you to create a media kit for your online business?
A media kit is similar to a resume in that it puts forth your strengths and is a brief introduction to you and your business. In order for a media kit to convert, there are specific elements it needs to have so that a client follows up with you.
Media Kit for Bloggers and Influencers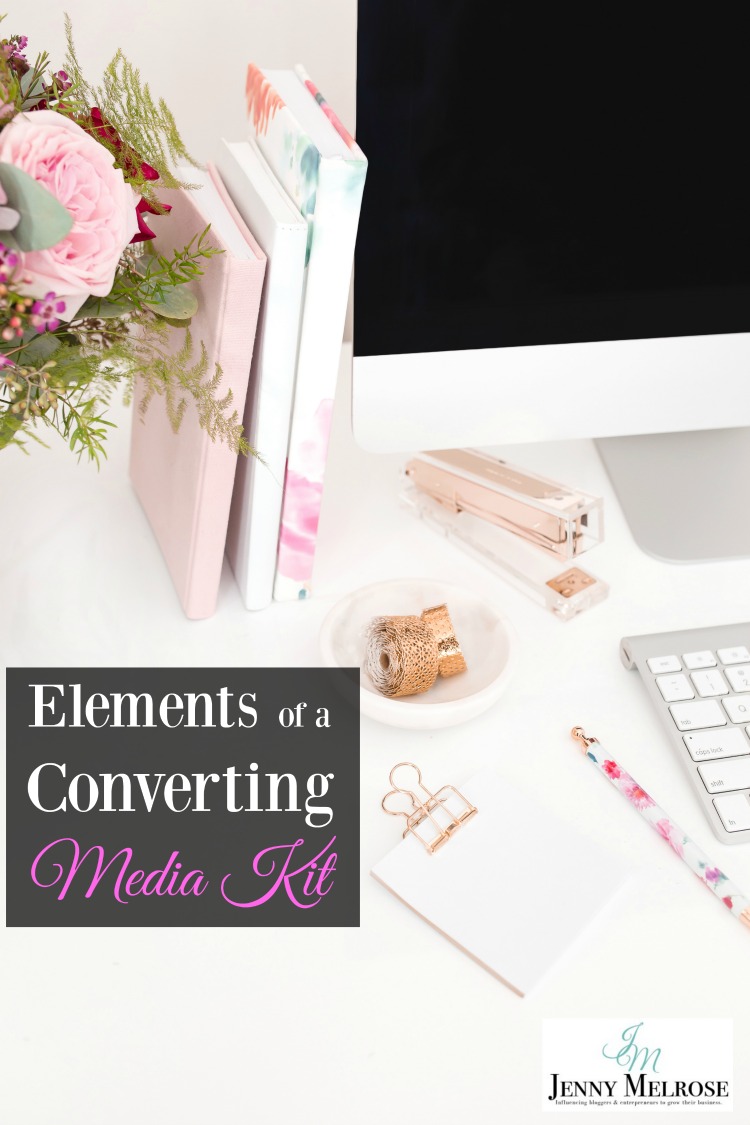 A media kit can be used for online business that offer physical services like web design, branding or social media management. A media kit is often used by bloggers in order to market themselves to brands in order to work on sponsored content. In order to present your media kit, you need to send an initial pitch asking to do so. Be sure to join in on our Pitch Perfect Challenge that walks you through who to reach out to and what to say when you do.
Media Kit Branded Header
Your media kit should have the same header image as your site. If you have a smaller header on your site like I do over at The Melrose Family then you might use your header image for Facebook or Twitter. Those images are larger and might work better for the aesthetic of the media kit.
Media Kit Headshot
Be sure that you have an up to date headshot that you use for your profile pictures across social media. You want to remain consistent so that it is easy to recognize who your are. This is especially true if you consistently interact on social media with the brand, which you might do on Twitter or Instagram.
Brief Introduction of Business and Owner
In my Pitch Perfect Cheat Sheet I teach you the importance of your elevator pitch. You'll need it for your initial pitch, but you'll also use it in your media kit. I like to introduce my business as well as myself in my media kit. This is more personal preference than anything else. I find it helpful to introduce myself though so that the brand can determine if I might be a good fit because of being a former teacher or because I have two young daughters. Providing the brand with a quick introduction will help make their decision easier.

Examples of Photography or Previous Work on Media Kit
If your photography is one of your strengths, which most likely is the case for most food, craft or diy bloggers, you want to make sure to showcase your best photographs. The brand wants to see what they can expect and photography can often be a deal maker for many brands. You also want to make sure that the photographs that you showcase are relevant to the brand. So if you're pitching a cleaning brand then you shouldn't have photographs of food or crafts. You should showcase photographs that would be relevant to the brand.
Demographics & Reach on Media Kit
You absolutely need to be able to speak to the brand about your audience. You'll need to know where they primarily live, what their primary age range is and what percentage is female and male. You also want to be sure to include the specific followers you have on each social media platform. If you include a specific strength in your initial pitch, like I teach to do on the Pitch Perfect Cheat Sheet, you want to be sure that it is highlighted in some way. This could be as simple as making the font a bit bigger or stronger for that information.
Expertise, Experience or Accolades
I am a huge believer that we are all unique and have a specific strength that sets us apart from everyone else. Brands need to find your strength on your media kit. If you are a doctor that writes about healthy living then your expertise is a huge strength compared to someone else that is writing on the same topic. The same can be said for experience. So if you've worked at Food Network for years with food styling then that sets you apart and you want the brands to know that. The same thing goes for any accolades that you may have received in your field.

I have found that I am a visual learner and I do much better when I can see the entire process, which is why I've created our this Video Training that also gives you 8 different media kit templates and teaches you how to edit them in order to make it your own. You want to know how to create your own media kit, rather than paying someone to do it because a media kit is a living document that you'll want to update as your social media platforms grow.