There has been a lot of talk recently about Pinterest; specifically about Pinterest numbers declining. I have been calling it the "Pinterest Pinch." Marye and I are going to talk today about that pinch and how you can overcome it with Search Engine Optimization (SEO).
IE 67: Search Engine Seduction with Marye Audet-White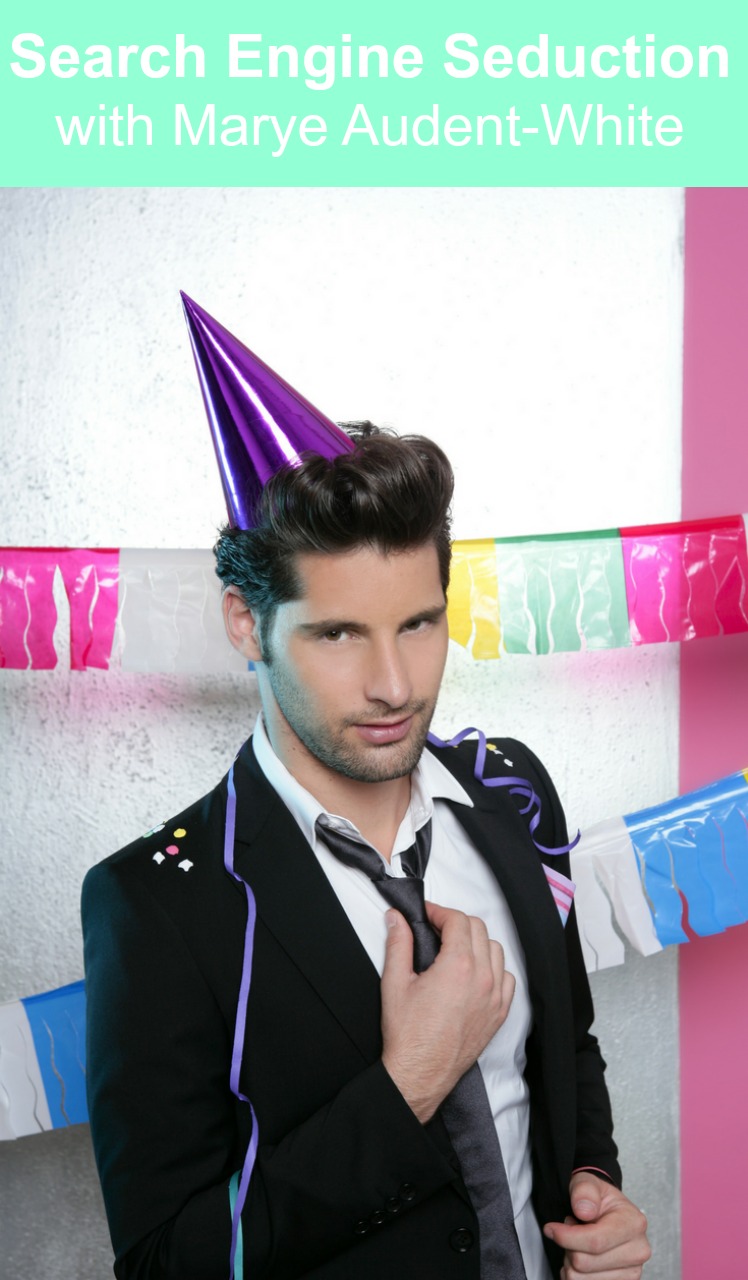 One of the rumors circulating about this drop in Pinterest traffic is that Google is giving preference to actual pages in their search returns rather than pins. So when you see this drop in Pinterest traffic, you should theoretically see an increase in people finding your site through Google.
This is very important and the reason I brought Marye in to chat with me about it. She is going to give us all kinds of practical ideas for making sure you are being found in Google search so that your traffic isn't dependent on what Pinterest is doing.
Search Engine Optimization: Why It Matters and the Best Tools
I've been a lifestyle blogger for 8 years now and I thought I had a pretty good handle on SEO.
If you're new to the blogging world, SEO stands for search engine optimization and to make it simple, it's the way your blog gets found in Google searches.
After talking with Marye, I came away feeling like a newbie!
The basic thing you need to know about SEO is that it's important to find and use keywords. There are many tools available for finding keywords but Marye's favorite tool is Keywords Everywhere.
This is a free extension for your browser and works through your own searches. Let's say you type the words "apple pie" into your search bar. This tool will give you a drop-down that tells you how many searches there were for those words in the past month, how much advertisers are paying for it, and how much competition there is for those keywords.
If you scroll down, you can also see what other similar search terms were used and how many of them were searched for the past month. Let me reiterate that this is a free tool.
What Should the Numbers Look Like with Keyword Research?
It's all well and good to see how many searches people have conducted for a certain keyword but how do you know if that number is good or not?
Marye stresses the fact that it isn't all about the number of searches; it's more about the size of your blog and the competition. For example, if you have a dessert recipe and you enter your keywords, let's say the first 3 returns are Food Network, Bon Appetit magazine, and Pioneer Woman. But the 4th return is another blog about the same size as yours. Now you know you can compete because your blog will show up on the first page of Google.
You have to know who your competitors are, not in a "cut-throat" way, but simply to know what kind of blogs you are up against and where you can expect to rank. A good rule of thumb is that if you have under 5K page views per month, try to stick with under 2K searches. And if you're more in the 50K per month page views range, experiment with 10K or more searches.
You are really going to have to experiment to find what works for you. Marye stresses this point, that every blog is different and every niche is different. Try things until you figure out what works for you. Marye has 350K page views on one of her 2 blogs and she still sticks to under 2500 searches for that particular blog because she's found that it works best.
What Is Google Looking For Search Engine Optimization?
The first thing to remember is that Google is all about the user experience, so anytime you put something on your site that serves their user, they will send that user to you.
Page Speed
Speed is also important to Google. Do you have any idea what the file sizes of your images on your site are? Marye keeps hers at or below 85kb. This is significantly smaller than most food bloggers, which Marye is, but it has worked wonderfully for her.
One way to keep things moving quickly is to compress your images. You can use a plugin like WP Smush for that or use Marye's tactic. She uploads her photos to Compressor.io to have the photo compressed before uploading it to her blog where the specific plugin she uses compresses it even more. (Marye uses the Tinypng plugin for her site.)
If you want to know how fast your site loads, go to Pingdom and they'll test it for you for free.
User Experience
Your blog is like an outline, with headings and subheadings like we learned in school. Most themes have an H1 heading as the title. Unless you have a super old theme, you probably don't even need to check this.
Next, you need an H2 heading. Marye saves this heading for directly above the recipe she is sharing. Why wait so late in the post before using this heading? Simply because that tells Google that this is the most important part of the post itself.
H3 headings are what you use to separate the different sections of the post. You're trying to make it as easy as possible for your reader to know which parts of the post are which. They can scan for your headings much more easily than they can read the whole thing. They can find the section they're looking for.
Another thing that Google loves is bullet points. Add bullet points to your blog posts and feel the love from Google. Marye is a food blogger so her example would be to add "variations on this recipe" in bullet points.
The Dreaded SEO Audit
One of the things that is recommended to bloggers once you've been blogging a while is an SEO audit. This is where someone tells you all the things you're doing wrong for SEO and what to change.
I will admit that when I had mine done, I cried afterward. And to be completely honest, I still haven't fixed everything they told me to fix simply because I didn't even understand what some of it was. Marye found herself in the same boat.
But now…you guys, Marye has to scroll through 700 posts to find one that she doesn't rank on the first page of Google for. 700!!
And she has been working tirelessly behind the scenes to create something to help all the rest of us who know we need to do better, and want to do better, with our SEO but we don't know where to begin.
Search Engine Seduction
Can you imagine a product that teaches you how to rank on the first page of Google without a bunch of technical talk that you can't understand? Wouldn't it be fabulous to have something like that but written in "blogger language"? That's exactly what Marye has done.
This course is built to help you invite Google to send people to you rather than always feel like you're wrangling them to show your posts. The course is extensive, containing 19 ten-to-twenty-minute lessons. Don't worry though; the course is fun and filled with printables, computer wallpapers, etc.
Search Engine Seduction covers everything from blog posts, images, Google searches, and more. When you complete this course, you will know everything you need to know to rank on the front page of Google. There are different payment options and different tiers for different levels of blogging.

If you use my affiliate link, I am throwing in a coupon for $100 off of my new course Launch Pro. With these 2 courses under your belt, you'll be ready for Google and anything else the internet throws at you. You can get your first product out there and know that people will see it.
Are you SEO savvy? What is your biggest problem with SEO? Talk to me in the comments and let me know how I can help you!
Action Steps: