Instagram is a social media platform that is continually changing and influencers need to be in the know. Carla Biesinger is sharing her Instagram secrets to success with us all today.
IE 70: Instagram Secrets to Success with Carla Biesinger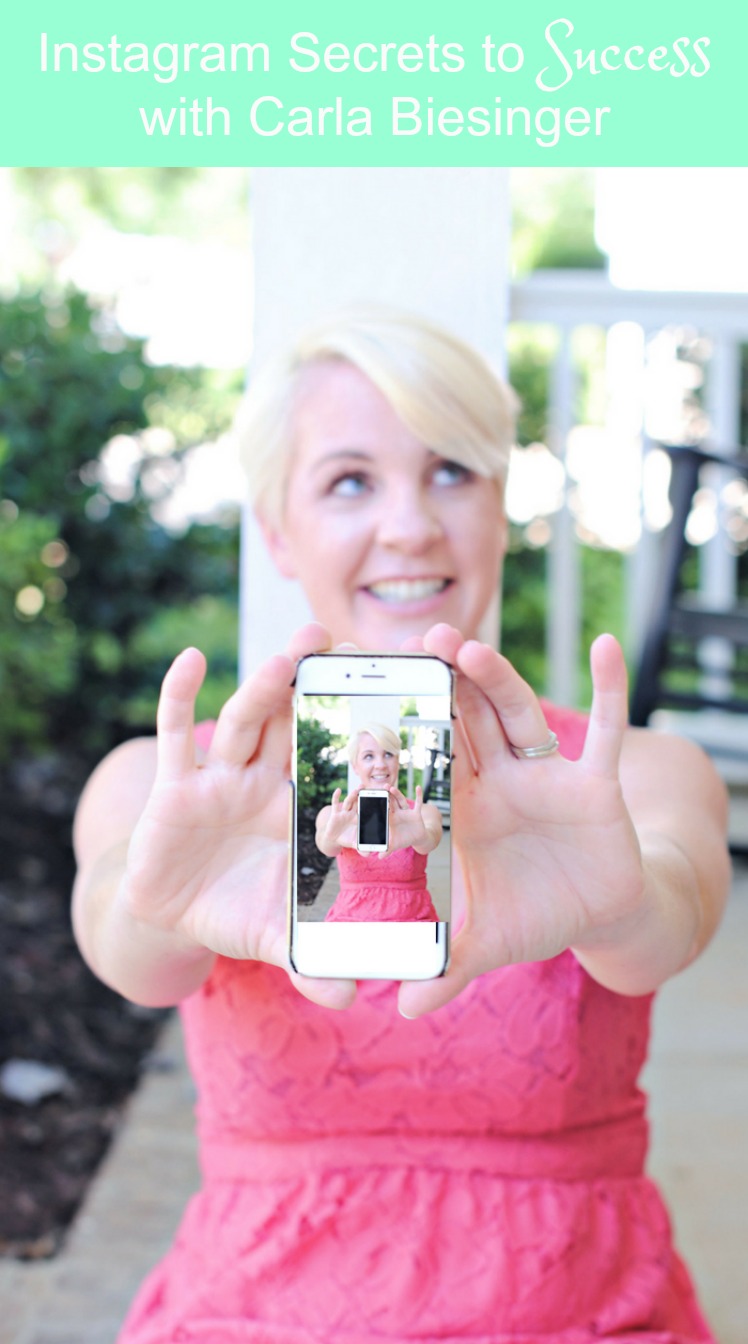 I am so excited about today's podcast guest. Carla Biesinger has done several trainings in my membership group but this is her first time on the podcast and I couldn't be happier to have her here. If you aren't familiar with her, Carla is an online marketing and Instagram coach specializing in food, health, and fitness. She works with women who are just getting started in online business and want to grow their reach on Instagram.
Carla has an interesting background; she once owned a restaurant in Argentina and she is a native German. But she hated being stuck. She had a dream of traveling and living a laptop lifestyle. And that is exactly what she has created for herself. She actually admitted that she hasn't had a permanent address in over 3 years. Isn't that amazing?!!
Carla agreed to answer as many questions about Instagram as she can for today's episode so let's dive right in. I know you are going to get so much value from this conversation and I strongly recommend that you listen to the full episode because there is just no way I can get everything into these show notes. With that said, here we go…
Instagram Secrets: Hashtags
How Many and Where Do We Put Them?
I don't know about you but I struggle with figuring out which hashtags my audience might be looking for. I hate to always use the same ones and especially if they already have several million uses.
The first thing we need is a great definition of hashtags. Here's what Carla said-
"Hashtags are a way to attract your ideal audience on auto-pilot."
There is so much confusion over how many hashtags you should use and where to put them. Carla has done a ton of experimenting over the past couple of months; everything from only using 5-10 hashtags up to using the 30 allowed by Instagram. She noticed a definite decrease in engagement when she used fewer hashtags.
And where should these hashtags go? Is there anything wrong with posting them in the comments? Will Instagram ban you if you do?
Carla found an article on Instagram's own website that states that you can put your hashtags in whichever place you prefer. For aesthetic reasons, Carla posts her hashtags in the first comment as soon as she posts.
How Do Hashtags Work?
Hashtags are time-sensitive. If you attach a hashtag to your post, your post will appear at the top of that hashtags home feed.
As other posters use that same hashtag, your post will begin to move down the feed until it ultimately gets lost in the sea of other posts. If you use a hashtag with millions of other uses, by the time you post yours and hit refresh, your post is likely already lost.
This is why Carla recommends to her students that they use hashtags with somewhere between 6K to 600K posts attached to them. You can certainly throw one or two of the bigger ones in if you want to, but just know that those hashtags likely won't help you to increase engagement on your account.
*Action Tip- Categorize your blog posts and create sets of hashtags to go along with the categories. Once you have the sets created, it's just a matter of swapping them out to match the post.
Should You Have Your Own Hashtag?
Have you ever thought about creating your own unique hashtag? One that others can use but that you follow and use to share others' content?
As a featured account, Carla has a personal hashtag that she created and she can simply scroll through the hashtag to find great content to share on her own account. When someone uses her hashtag, they are basically giving her permission to share their content without asking permission.
If you own a business, you definitely want your own hashtag. This allows your customers to not only tag you in their posts which gives you FREE publicity, but it also allows you to share their content through your hashtag. Talk about increased engagement!
Lastly, if you are a food blogger, you want other people to be recreating your recipes. By using a personalized hashtag, they can give you a shout-out and you can use the content they create for your own marketing.
*In the full episode, Carla talks about how to create a few sets of hashtags and how to divide up the number of uses so you have a good mix. She also covers shadow banning, how to know if a hashtag has been shadow banned, and more. Be sure to tune in to get all the awesome information she shared.
Instagram Secrets: Using Other People's Content
You may be asking why you would even want to use other people's content on your own Instagram account. There are a couple of reasons.
It's a great way to meet new people and increase engagement. When you look up hashtags that are in your niche, you can contact the poster through the messaging feature and ask if you can share their content. You can also ask people to share your content or use your hashtag in order to get more followers and increased engagement.

You can use other people's content to fill in gaps in content. For example, Carla isn't a food photographer but she shares a ton of food content. She depends on other people to create beautiful photos that she can use in her own feed. This allows her to support others by introducing her followers to them and to get her name in front of their followers through shout-outs and thank you posts.

When you share other people's content and they share yours, you begin to build a real community. Instagram is not known for being a community building platform but this is one way to do it. You can develop relationships with people and reach a larger audience through them.
As a blogger from the dinosaur age, it can be hard to shake the mindset that everything we do needs to drive traffic. I know that I really struggled to embrace Instagram because of that very reason. If I wasn't seeing traffic from it, why would I invest time being there? Carla really helped me to understand the branding and community aspect of the platform and now, I love Instagram!
Instagram Secrets: Building Community on Instagram
Carla threw in an amazing tip for us here- "If you're having trouble with engagement, respond to every comment that your followers leave and try to keep the conversation going. If someone comments on your post, don't just "like" their comment; leave a comment back to them."
One of the most important things to remember is that all the social media platforms are different. Whereas on Facebook, if you get a random friend request from someone you don't know it is cause for deliberate care, that's the name of the game on Instagram. People follow you on there simply because they like your content and they want to get to know you.
As Carla moves from place to place in her location independent lifestyle, she most often connects with people in a new city that she has met on Instagram. They connect over shared passions and this has led to friendships, business collaborations, and more. She has literally built her business on Instagram.
Instagram is huge for growing the "know, like, and trust" factor.

Instagram Secrets: Insta-stories
How to Build Community Through Insta-stories
If you aren't building community on Instagram, try using the stories feature. Here are a couple of reasons Carla gave for using stories-
In stories, you are able to share more of your real life. While you tend to share the most beautiful, best parts of your day in your feed, stories allow you to be real. Your followers can see a side of you they've never seen and can make a more personal connection with you. This also increases that "know, like, and trust" factor.

Try mentioning others on your stories and tagging them. When you tag someone in a story, Instagram starts a private conversation between the two of you which increases the chances of building community that much more. If there's someone you've been wanting to connect with, try this strategy. Even if you just get on their radar, you have an opening to reach out to them in the future.
3 Ways to Use Stories
Share some love.

Use stories to share your favorite new accounts you've found or an account that shares great content on a daily basis.
Share your daily activity.

Pull out your phone and snap a few photos during your day and share them. Add gifs, stickers, and titles to increase engagement. Use the poll option in stories to engage with your followers on a daily basis. (The more engagement you get, the more Instagram recommends your account to others.)
Promote your business.

When using stories for business, you want to avoid the awkward part of having to watch the timer for your 15 seconds to be up and you definitely don't want to get cut off. The way around that is so simple! Check out the app

CutStory

. This app allows you to take your entire video and it cuts it into 15-second segments that you can then share on Instagram.
Instagram Secrets to Success
Carla believes that you need 4 things to be successful on Instagram:
A visual strategy since Instagram is a visual platform

Know who your audience is and what kind of content they want

A content strategy for serving your audience

Strategies for growing your account
Before you begin any type of growth strategy, you have to know who your audience is and the type of content they want to see. If your feed is a jumbled mess and you aren't offering any value, nobody is going to share your content or follow you back. Once you have these initial pieces in place, you can move on with a strategy for growth.
Carla's course, Instagram Secrets to Success, starts at the beginning and walks you through every detail of the 4 items mentioned. She helps you determine your ideal audience and how to find them on the Instagram app. You learn how to create the perfect profile that will grab visitors and hook them. The course goes deep into hashtags and how to create them, how to use them, and how to implement a hashtag strategy.
The thing I love the most about Carla and her course is that she doesn't believe in the whole "follow/unfollow" idea. She stresses building legitimate relationships with your followers. So many people use spam to try to build their business and I just can't get behind that. I love the way Carla uses high-quality content to grow Instagram accounts.
If you purchase Carla's course through my affiliate link, I am throwing in a coupon for $100 off of either Pitch Perfect Pro or Launch Pro, my two signature courses. You can decide which one you need. Carla is also offering some bonuses: Instagram Master Class Collection (a collection of her most recent live trainings) and Food Styling and Photography Crash Course ( to help food bloggers).
If you've been like me and thought that Instagram wasn't for you, I hope today's episode has changed your mind. Taking Carla's course was one of the best things I did for my business and who knew that I would grow to actually love Instagram? But it's true. If you've been holding back or wondering what all the fuss about Instagram is, check out Carla's course and learn how to grow your business and build relationships today.

Action Steps: