Many people want to know how to monetize a blog and I'm always surprised that bloggers often assume that age can be a limiting factor. I'm diving into how to monetize a blog no matter what your age with Cathy Lawdanski of My Side of 50.
IE 89: How to Monetize a Blog No Matter What Your Age with Cathy Lawdanski of My Side of 50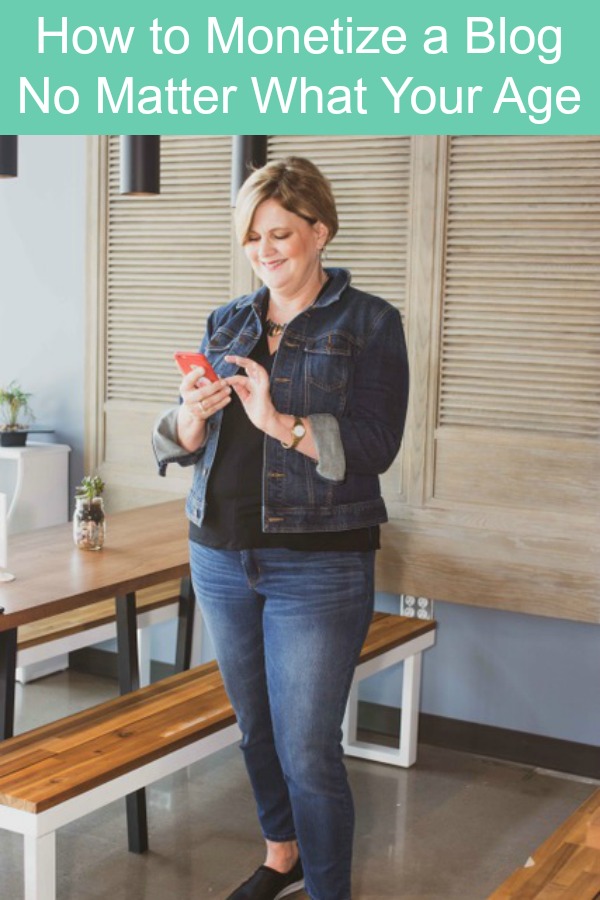 I am so excited for this episode of the podcast because I have a very special guest with me. Cathy Lawdanski is one of the awesome ladies in my membership and she has been absolutely rocking her business so I wanted to get her in here to share with you guys all the successes she has had and some of her secrets to that success.
Cathy blogs at My Side of 50, which is a lifestyle blog for women in midlife. She started the blog when she was 57 and chose the name so that it could apply to women on either side of 50. Cathy was having experiences common to most women in midlife; things like caring for aging parents and dealing with their deaths, her own health issues, and more. She wasn't finding any help for what she was going through so she decided to provide at least a conversation around it.

How to Monetize a Blog while Overcoming Technology Hurdles
If you are listening to this podcast and you are under the age of 30, you were born to work with technology. You probably grew up with a computer in your home and cell phones in the car. You have seen the latest technology as it has been released and your young brain just knows how to work with it.
That is not always the case for those folks in the older generation. Cathy had to learn how to use technology in order to get her blog running. Her own mom was on Facebook at age 82 before she passed away so Cathy did have some knowledge, along with the fact that she used it for her previous nonprofit career. There were things to learn though.
Get Your Priorities in Place in order to Monetize a Blog
For some bloggers, that technology learning curve is the biggest hurdle they have to face. But for Cathy, it was figuring out what her priorities should be out of all the things she needed to do as a blogger.
When you are a new blogger, you are at the mercy of all the information out there. You need to build a Facebook page, so you do that and start trying to build an audience. But then you see that you need to be on Pinterest, so you go over there and start working on your Pinterest stuff. Then you see something else you need to do. And on and on it goes. And don't forget, you still have a blog to post to.
When Cathy decided that her blog was a business, which meant that it needed to make money, she began to see which activities she needed to focus on. What activities were those? The ones that were going to generate an income.
How to Monetize a Blog by Following Your Audience
When Cathy was getting her blog and social media accounts up and running, Instagram wasn't really a big part of her strategy. Most of her audience was on Facebook, so she has been very active on that platform.
However, as the younger generation begins to flock to Instagram, the older women will as well because their grandkids are going to be on there. Women squarely in midlife will go to Instagram to see videos and photos of their grandkids so you need to have a presence there. And you can tell them, "Hey, when you're on Instagram watching your grandkids be sure to follow me. I share tons of tips, tricks, and real life in my Instagram stories!"

How to Monetize a Blog with an Email List
Cathy didn't think an email list was important when she first started blogging. She figured that since she was putting all her thoughts into her blog posts, what would she send emails for?
What changed for her was when she decided to write about her blogging journey and sharing some of the things she had learned during her first year of blogging. She knew that she wanted to be an affiliate for some of the blogging products she had used so she started an email list for that.
She doesn't email them a newsletter every week or anything like that but she does share with them any new ideas she finds or anything that's working for her. She enjoys communicating with other bloggers and she has found that blogging products are a good source of revenue as the commissions are higher than some other types of products.
For her main list, she does email them once a week to share her newest blog posts and anything she has come across that would benefit her reader. She shares other blogger's posts that would also be helpful to them. Cathy goes the extra mile to build relationships with her readers so they trust her when she recommends something to them.
How to Monetize a Blog with Sponsored Campaigns
I mentioned that Cathy is a member of Mastering Your Influence, which is my own membership site. The membership site is available for those who purchase the Gold level of my course, Pitch Perfect Pro.
Before taking Pitch Perfect Pro, Cathy had a few sponsored posts on her blog but they were mostly blog posts in exchange for clothing. But she figured that if she could do paid sponsorships, she could buy clothes. She was trying to get sponsored work through networks but she had only received one: a campaign for incontinence products. That wasn't really what she was looking for.
Cathy definitely procrastinated on buying Pitch Perfect Pro because she thought her audience was too small. She had to learn that size isn't the most important thing. She had an audience that opened most of her emails and a 20% click-through rate. She had what she needed to pitch brands.
What happened when she started pitching? She only quadrupled her sponsored campaign income.
"I'm sending these proposals, thinking to myself, 'Nobody will ever pay me this much for a post.'
And they aren't even negotiating the price I am asking. You've just got to work the system and if you follow the steps, it will work."

Hitting the Wall…and Going over It in order to Monetize a Blog
Cathy attributes her success in increasing her blogging income 4X to taking Pitch Perfect Pro and becoming a member of Mastering Your Influence where we were able to spend one-on-one time diving into her specific business and finding ways to build it.
The biggest piece of her success journey though is that she just didn't give up. I have members who hit a wall and give up. But struggling through the difficult parts and pressing on are what make the difference. Everybody hits a wall; the question is whether you go over the wall or you let it stop you.
Action Steps: