As a blogger and business owner there are multiple projects and tasks that need to get taken care of on a daily basis and because of this a blog planner is essential. Many bloggers are also running their households as mothers and finding a blog planner that combines personal appointments with business goals is often difficult to find, which is why today I'm excited to introduce everyone to a blog planner that does just this!
IE 57: A Blog Planner to Hit your Goals and Increase your Productivity with Katie Horner and the Blog Well Planner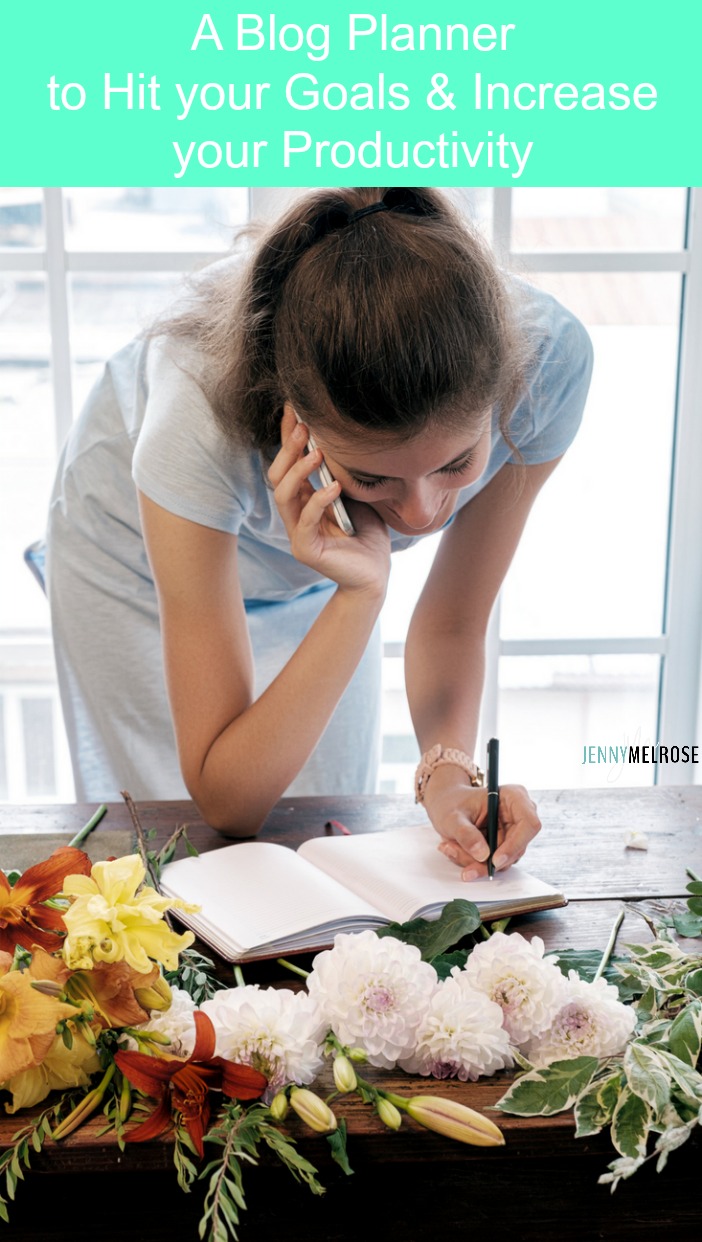 The content includes affiliate links where if you buy a product I earn a commission to be able to go buy a coffee.
As bloggers, many of us feel like we can't get ourselves organized so that we can accomplish all that we need or hope to accomplish. I am so excited to have Katie Hornor on the podcast with me talking all about her own systems for organization and how she and her husband stick to their goals even while in full-time ministry and homeschooling their large brood of kids! After the six week series on goal setting it only seemed logical to get those goals all organized with the perfect blog planner.
Katie began her blogging career with a homeschooling blog and business back in 2012. Many things have changed in online business since then and Katie has managed to not only hold on but to expand. She now has a business teaching other bloggers how to grow their own online business.
The Importance of Marketing as a Blogger
Katie shared with me that the biggest struggle she had in building her online business was marketing. It's something she didn't pay enough attention to or spend enough time learning in the early days and that made it more difficult later.
But what do we even mean when we use the term "marketing"?
For Katie, that term covers social media, email, sales funnels, opt-ins, and landing pages. It all plays into your final results. Email is the one thing you own so building your email list is her first priority but all the systems work together to create your audience so it's important to get a handle on it.
Creating Products as a Blogger
Once you have been blogging for a while and your list is growing, the next logical step is creating products for sale. I asked Katie how she went about knowing what she should create and the process that followed.
She began by writing an ebook. Katie had been writing from a very young age and so for her, the obvious next step was writing a book. She had always longed to see her name in print and when she discovered she could control the entire process through Amazon, she went for it.
40+ books, a homeschool curriculum, and several blog courses and products later, creating products has been the key to growing Katie's business.
Creating products doesn't just mean you throw something together and try to sell it. You have to know your audience and what they need and want from you. This is why I tell you all the time to stop chasing page views and engage with the people who follow you. Once you know them, you will know exactly what to create for them.
Because Katie works with so many bloggers and homeschoolers, and because that is her life as well, she knew the things that blog planners on the market lacked. If it worked for the home, it didn't work for business. If it covered her business needs, it didn't have what she needed for the home. So she set out to create the blog planner she wished she had for running multiple businesses and homeschooling.
Let's dig into the blog planner and talk about why it works so well…
Quarterly planning in the Blog Planner
This is my absolute favorite piece of the planner. Katie was inspired by John Lee Dumas' Freedom Journal and Brian Moran's 12-Week Year. She found it very helpful to have such a tight focus on working toward one specific goal for a short period of time.
"If I can break my big yearly goals down into quarterly goals and put everything else behind a curtain and not get distracted by it, and can just focus on a quarter at a time, I can get a ton of things done and be further ahead than I could be otherwise." Katie Hornor
This adds a sense of urgency, knowing that you only have 3 months to accomplish the goal instead of 12. And if you have followed me for any time at all, you know that I am a huge fan of the 3-month goal setting idea.
Undated pages in the Blog Planner
Dated pages are one of my biggest pet peeves when it comes to planners. What if I find the perfect planner in April but the pages are dated? Then I'm still carrying around this big honking planner but I can't even use half of it.
Katie's planner is undated throughout so you can begin using it at any time during the year and still use the whole thing!
Double Monthly Spreads in the Blog Planner
Another problem with using a planner for both business and your real life is that it is impossible to fit everything that needs to happen in a day on one monthly calendar spread.
In Katie's planner, there are 2 full spreads for each month. This allows you to use one for business and one for life, instead of trying to cram everything into the blocks on one spread. You can also use the double spreads for goals, putting business goals into one spread and personal goals into the other.
Another idea is to use the first spread for the current month and its events and use the second spread for the upcoming month and adding things to it as you know about them. This allows you to stay a bit ahead of your life and not get so overwhelmed since you will see that calendar filling up even before the month gets here.
Goals for the month in the Blog Planner
As women, we don't only have business goals but most of us also have personal goals we want to reach and Katie's planner takes that into account as well.
On the monthly goals pages, there are spaces for Personal, Professional Development, Business, and Financial Goals. Are you trying to read more this year? Add your reading goal to the Personal Goals section.
Are there courses you need to work through for your business? Professional Development Goals is a great place to work through those. These pages allow you to get really focused in on your goals and make serious progress.
I can't talk about every page in this planner in this post, but I want to mention a few more pages that stuck out to me…
Year-At-A-Glance Income Tracker
Monthly sections for Expenses, Income, Books, and Classes and Trainings
Monthly sections to plan Blog Posts. Promotions, and Affiliates to promote that month
Monthly Time Blocking Pages
Daily Pages for To-Do lists, a Daily Schedule, Social Media Posts for the day, etc.
Okay, you can obviously see that I can't cover every single page of this amazing planner in this post so please, go take a look at it. I can't recommend it strongly enough. This is the planner that can finally get you on track and get your days organized.
If you want to see your business plan come together and see yourself accomplishing more this year than ever before, get the Blog Well Planner!