Do you know your purpose in your business? In order to be successful you have to know and truly appreciate your power of purpose when serving your audience.
I want you to truly see my journey so that you can better understand the path that you might be on. We're diving in deep to define our power of purpose.
IE 001: Finding the Power of Purpose in your Business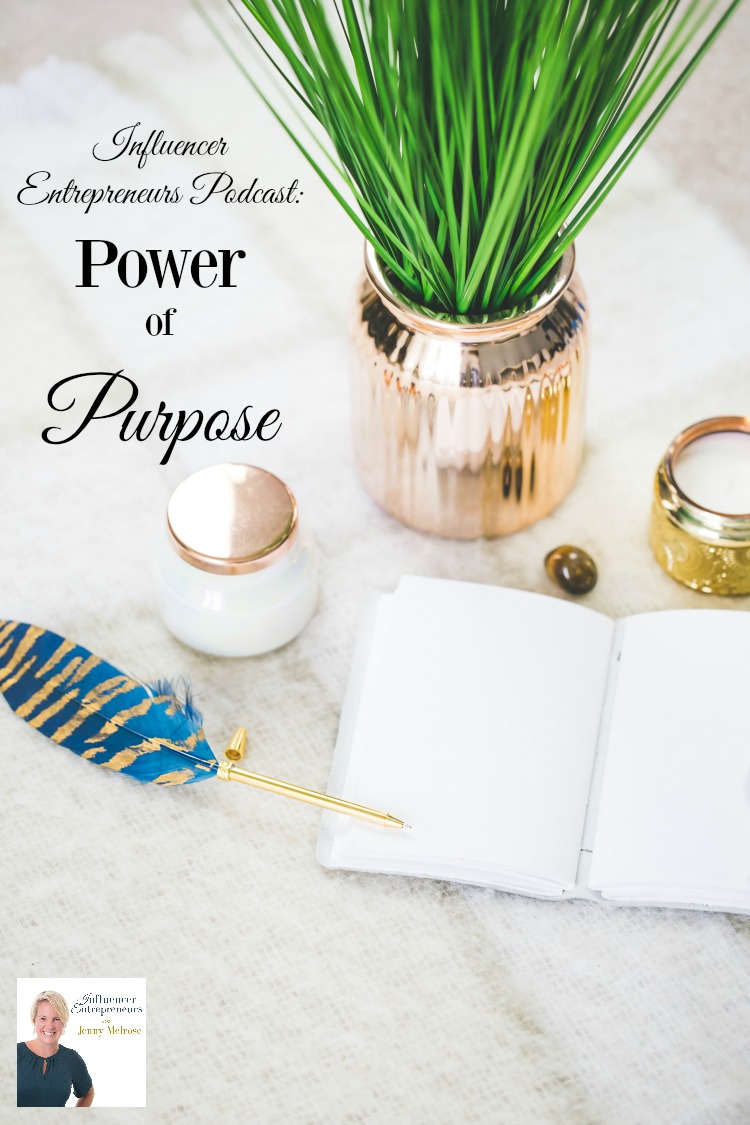 Be sure to grab the free download to define your power of purpose HERE.

My Story
In order to understand why I am so passionate about teaching others how to grow and monetize their businesses, you have to first understand my story. 6 years ago, I started my blog, The Melrose Family, where I create quick and easy recipes and projects for busy parents. I began this blog so that our family who lives far away could keep up with what was going on in our lives.
It didn't take long though before I realized that there was much more to this blogging thing than I originally thought. I jumped into every social media platform and began digging deep into researching how to grow and monetize my site. Why did I want to monetize? Because the sheer amount of hours I was putting into the site taught me that I needed to earn money from all that work.
When I began 6 years ago, Pinterest was just coming on the scene as another social media platform. There was no plethora of information out there about how to grow a blog like there is today. And added to all of this, I was also working full-time as a reading specialist in inner-city New York. And I had 2 little girls of my own.
I knew that I wanted to replace my teaching income so that I could stay at home and I was able to do exactly that with the income I earned from sponsored posts. It took me 4 years to accomplish that goal and that allowed me to retire from teaching.
We soon moved to North Carolina to be near our family that I had originally started the blog for. I continued blogging at The Melrose Family for the next year, and during that time, a desire started forming in me to create a site that would help other bloggers and entrepreneurs turn their side hustle into their full-time gig.
In September of 2016, Jenny Melrose, the site, was born. I had zero email subscribers when I started. I did have an advantage though, in that I had been in the blogging world for 6 years. That's dinosaur age in blogging! So I had a network of bloggers who had become my friends. I want you to remember that, because it's all too easy to think you're going to start a blog and have a full-time income in a month or two, and it doesn't usually work that way.
Launching My First Product
I began my Jenny Melrose site in September, and in the middle of October, I launched my first course, How to Work with Brands. I kept the cart open through the middle of November, and I made just over $25,000 in my very first launch!
I did not have anybody working with me on the launch because I thought it was important that I learn how to do everything myself; how to do webinars, how to set up my email sequence, etc. I knew that in future launches, I would be right back where I started if I didn't learn this stuff with the first launch. So I jumped in and learned it.
Knowing Your Purpose in your Business
When I began that launch, my goal was to earn $30,000 from my course. My husband would have been happy if I earned $5,000. But I felt strongly then and I feel strongly now that you have to go in with a purpose and if you don't, you lose any power you had to make your launch or business a success.
You have to know going in what problem you are solving for your audience. I can tell you exactly what problems I solve on my site The Melrose Family, and likewise what problems I solve on Jenny Melrose.
Please be sure to go over to my website and grab your copy of the worksheet that goes along with this episode so you can fill it out as we go along. You can get that worksheet here.

Would it surprise you to know that as a 5'4 young woman, I went to college on a basketball scholarship? It's true! I was a point guard and I scored over 1,000 points in my college career. How was I able to be so successful when there were girls on that court that stood 6'0 and taller, and they were in my face trying to stop me from getting into the paint and scoring those goals?
Simple. I had a purpose. I was determined to score the goals that my team needed to win. And that power of purpose allowed me to push through those other women that stood over me and make my way to the goal.
That power of purpose allowed me to be the first one in my family, even my extended family, to actually get a college degree.
Purpose in your Business
I scored over 1,000 points because of one thing: my team needed those points to win. My purpose was to help my team.
Likewise, you need a purpose in your business. Your purpose is who you are helping, and what problem you are solving for them. Once you have your purpose in mind, you need to run like your hair's on fire to solve that problem.
That's what I call the combination of going after your purpose and knowing who it is you are helping and being determined to help them solve their problem that you have identified.
If you are like me and started or want to start blogging as a hobby, you need to understand that blogging today is more of a business. In order to do that, you must know 2 things-
What your content is about
What the purpose is behind it
You should be able to clearly state to anyone who asks, what problem you can solve for them. You won't be able to answer that question though if you aren't clear on your purpose. This is one area that you can't afford to be wishy-washy on; you have to be 100% clear.
Defining your Purpose in your Business
In my course, Pitch Perfect Pro, I teach you how to use your clear purpose to get brands to work with you and to offer you sponsored post campaigns. In that course, we do a 1-minute free write and in that 1 minute, you write down everything you can think of that has to do with your site and yourself.
Once the minute is up, you take any words that keep popping up and turn those words into a paragraph. The final step is to turn the paragraph into one precise sentence that is 100% crystal clear.
That sentence should solve a problem for your readers.
So let me ask you, what problem do you solve?
Because I know this can be challenging, let me give you an example using my site, The Melrose Family.
The question I ask of the readers over there is-
"You know how you struggle with getting everything done so that you feel like the mom that you're proud to be?"
And my answer, my purpose sentence, is-
"I create quick and easy recipes and projects so that you can get it all done and feel good about yourself."
Your avatar is just the person who is your typical reader. At my family blog, I know who that person is. I am that person. I'm a mom just like my readers, so I know what they struggle with.
When I wrote out my purpose for that blog, it as written with the intention of speaking directly to that woman to tell her how I can make her life easier. You want your purpose to be short and sweet.
Tell the reader what you do and who you do it for.
When your purpose gets you excited, you know you've hit on the right business for you!

Work on your elevator pitch with my free email course, the Pitch Perfect Challenge. If you want to work with brands but aren't sure how to reach out to them, sign up today!
Don't Forget: