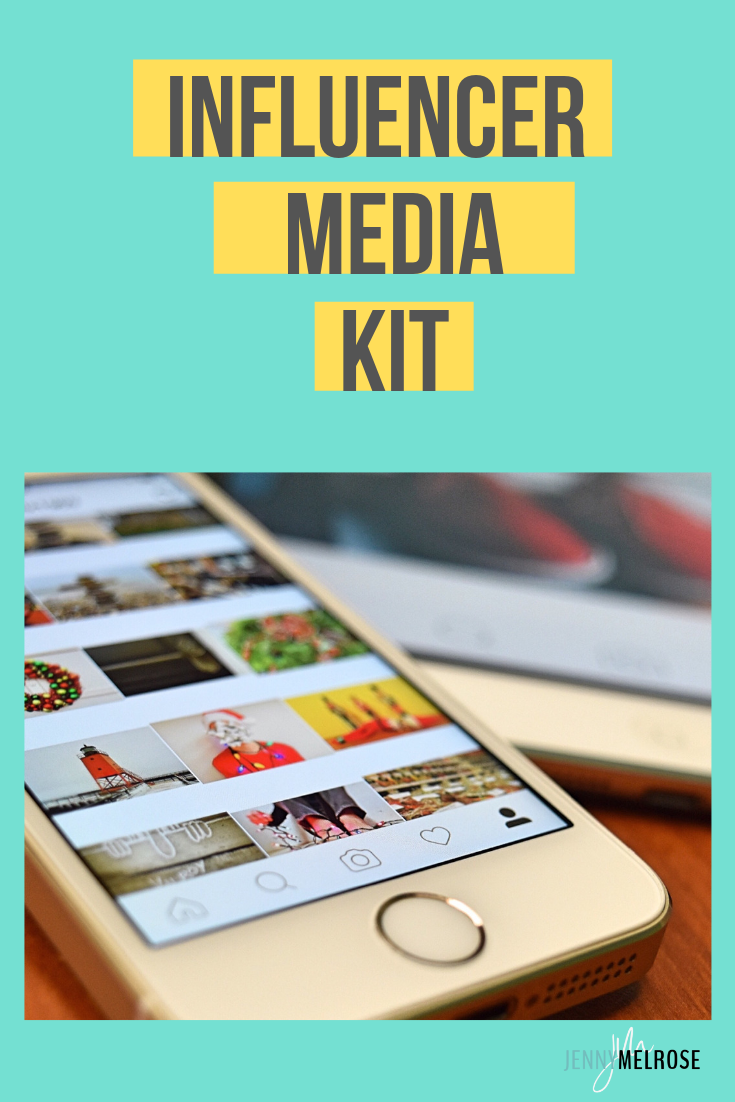 Are you an influencer or blogger that's ready to work with brands on sponsored content? Do you have an influencer media kit? Do you know what an influencer media kit should look like and what it needs to contain? If not, be sure to stay tuned for today's episode as I am answering all of your questions about influencer media kits and explaining why, as an influencer, you absolutely must have one if you want to work with brands.
IE 101: Influencer Media Kit for Bloggers and Influencers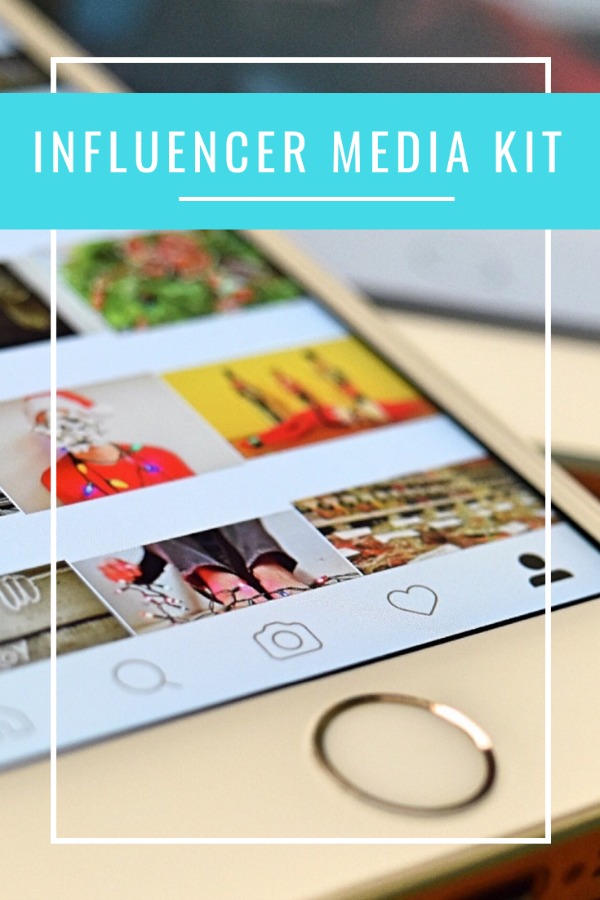 Why Do I Need an Influencer Media Kit?
Before we talk about what you need inside your influencer media kit, let's talk about why you need one.
An influencer media kit makes you look professional.
Hobby bloggers don't need media kits. You aren't a hobby blogger, playing the social media game, and posting at random times. You are a professional influencer and you need an influencer media kit that represents who you are as a professional.
Your influencer media kit should match your brand in colors and fonts. You should have professionally done headshots that are in your kit. Don't skimp on the photography when it comes to your own headshots. Hire a professional if you don't have a friend who is a photographer.
When Do I Need an Influencer Media Kit?
I have a lot of clients and bloggers ask me if they should take their influencer media kit along to any conferences they are going to where they might have a chance to connect with brands.
The answer is almost always no. The brands that attend blogger conferences aren't going to hold onto any media kits they get handed there. Think about it: they would have to take all the media kits they receive back to their company to the person who handles blogger campaigns. That is just not going to happen.
So, should you send it along to a brand with your initial pitch? Nope. If you haven't gotten your copy of my Pitch Perfect Cheat Sheet, head on over and get it now. In that cheat sheet, I explain that your call to action in your initial pitch is for them to ask for your media kit.
You will need a media kit to send along with your proposal to the brands that respond to your initial pitch and ask for it.
Grab my Pitch Cheat Sheet HERE
What Goes Into the Influencer Media Kit?
The first thing you need is a

header that is your branded logo

. If your media kit gets passed from one person to another, you want it to be clear who you are and what you bring to the table. Brands typically don't visit your site when you first send the kit in, so your media kit is the way you explain who you are and what you do.

Back to the

headshot

for a minute. This headshot should not only be professional, but it should also be consistent. This is the headshot you will use on all of your social media channels, your blog, your email, and your media kit. Basically, anywhere you are online that allows a photo of you, you're going to use this same headshot.

The next thing you need to include in your influencer media kit are

examples of your photography.

This is especially important for food bloggers. Be sure to leave plenty of white space around your photos. If you use stock photography, don't worry about including those types of photos but if you have photos of yourself in lifestyle type shots, include those.

The fourth thing that you need to include in your media kit is

an "About" section

. My personal preference is to write this in the third person. It just sounds more professional and less like you're tooting your own horn. This section should explain what your site is about and who your audience is, but also who you are and what you bring to the brand.

Site demographics

are super important for your influencer media kit. You need to include the age range of your audience by percentage. For example, if 60% of your audience is between the ages of 25-45, you'll want to include that. The age range tells the brand what stage of life the majority of your audience is in. Also, include what percentage is male and female.

Users and sessions

are the next things to include in the media kit. For you dinosaur bloggers like me, sessions are what we used to call page views. You also want to be able to show how long a user stays on your site.

Your

social media following

is something that the brand will want to know. Don't be afraid to share those numbers even if they seem small to you. Listen, it is what it is! The brand can easily look to see what it is even if you don't share it. The brands pay according to the size of your following so be upfront about it from the beginning.

You should feel free to include your number of

email subscribers.

Whether your list is big or small, you own that list and those are your most engaged followers. If you have a large open or click-through rate on your emails, be sure to include that.

The final thing to include in your media kit is any

accolades you've received or previous clients

that you've worked with. If you've been featured in a magazine article or on a large site, share that. If you do regular appearances, or even if you've only done one, on any type of local media, include that in your media kit.
You can include previous clients even if you worked with them through a network.

What Is the Purpose of My Influencer Media Kit?
The purpose of your media kit is to share with the brand the very best of you. It should highlight what makes you unique and the areas in which you are an expert.
Your media kit is the way you show brands why they should want to work with you!
What Should I Absolutely Not Do in My Influencer Media Kit?
I have given you a ton of information on what to include in your influencer media kit in order for it to be as professional as possible. But let's talk for just a minute about the things you absolutely do not want to do.
Do not, I repeat, do not include 15 pages in your media kit. 2 pages is my personal limit. And while I know some people say 5-6 is fine, I don't think the brands actually look through all those additional pages. If you can get it all on one page, do it! Make it easy for the brand to print out and deal with.
The next thing you don't include nearly got me into big trouble at a conference when I heard another blogger who was on stage speaking tell the audience to include. I nearly tackled the woman but thankfully, I was held back. What is it?
Your prices. Never, ever, ever include your prices in your media kit. Don't tell them that a blog post costs this much and a Facebook live costs this much and an Instagram story will be that much. This is not the purpose of your media kit.
Your proposal that you send along with your media kit is where you want to put your prices. Keep in mind that the job of the brand is to get you to work with them for as little money as possible. When you put into your media kit that you charge a certain amount for different types of content, they're going to come back with a budget of half that amount and offer it to you.
But now that you've told them your prices, you have zero room for negotiation. This is why you need to put together a package for your proposal. This gives them one price that includes a blog post as well as all of the social shares and anything extra you are including, like IG stories or Facebook lives.
When you do it this way, with a package price, if they come back to you with a reduced offer, you can just take something out of the package. If they want to pay you $500 less than your package offer, you can take out $500 worth of sharing and you get paid what you are worth or more.
Remember, the purpose of sending in an initial pitch is to give that call to action for them to ask for your media kit. You want the opportunity to send them your proposal and your influencer media kit. Don't put those prices in that media kit! Put them in a package and you will get a much better price for your work.
Now if you've never put a media kit together and you don't know where to start, don't you worry. I've got you covered.
I struggled with putting together my own media kits when I first started so I know how stressful it can be. I was awful at putting my information into pdf form. What I've done for you all is to make the forms for you and you can literally plug in your own information without designing the forms themselves.
If you go to Jenny Melrose, you can purchase Elements of a Converting Media Kit right now for only $49. This includes a training video as well as 8 editable pdf's that you can use immediately. The video training walks you through the tech side of putting your information in as well as what all needs to go in it.
The great thing about this training is that you buy it once and use it forever. If you pay someone to create your media kit, you will have to pay them again every time you need it updated. With this offer, you will have the forms that you can edit yourself and you will never pay for it again. Visit Jenny Melrose and get ready to create your professional influencer media kit today!
Action Steps: