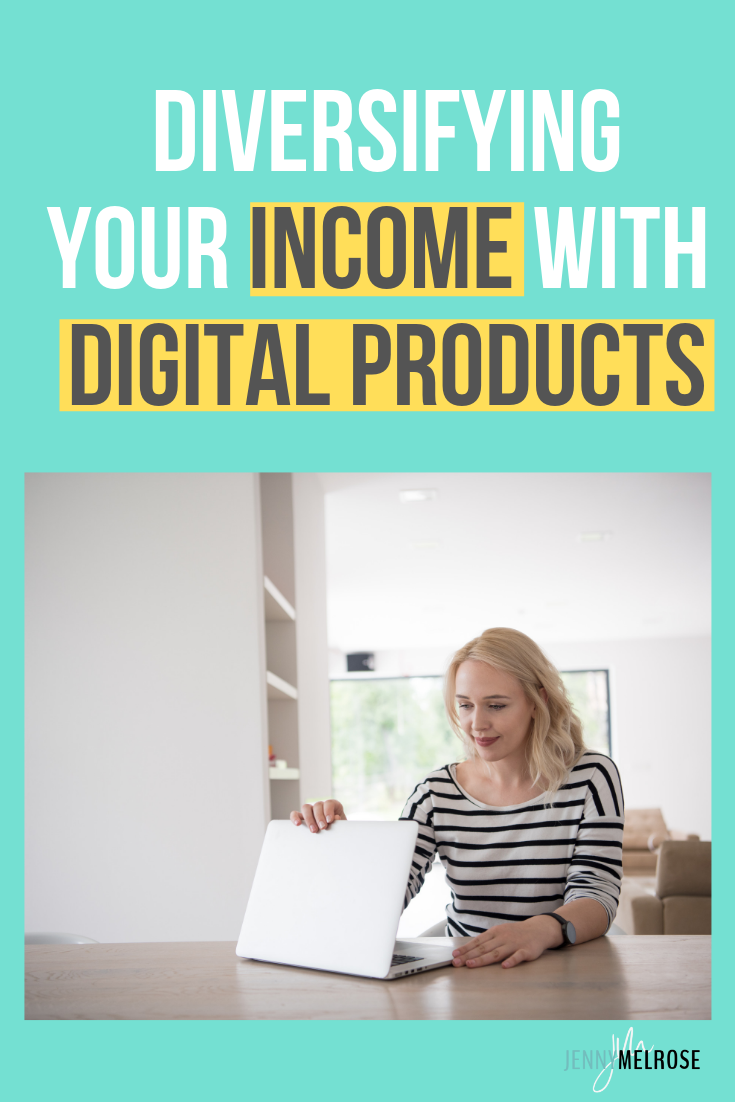 As bloggers, some of us tend to rely on only one form of income. Maybe you rely on ad income or affiliate income. In today's episode, I want to talk about why it is so important to have multiple streams of income and how to use digital products to add another form of income to your business.
IE 96: Diversifying your Income with Digital Products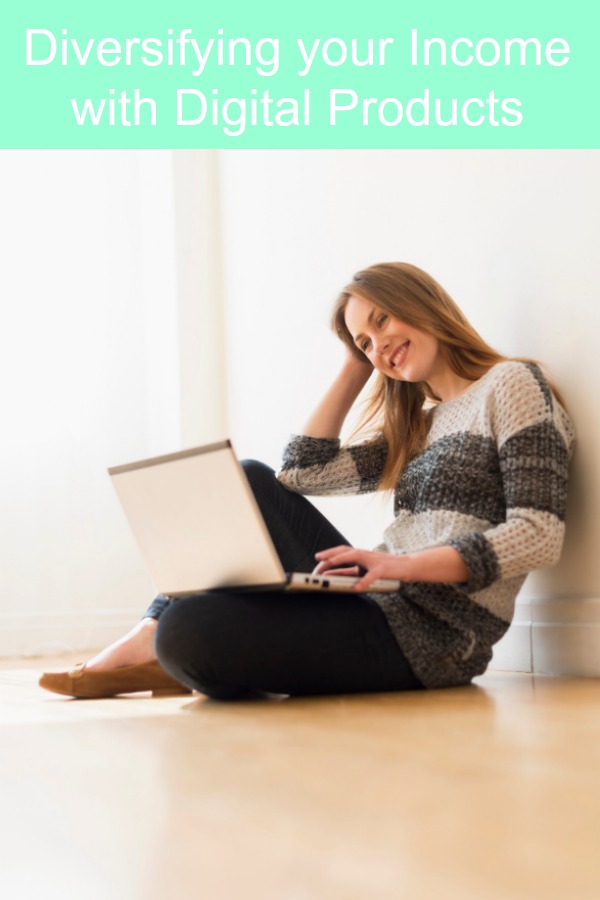 Why You Shouldn't Rely Only on One Form of Income as a Blogger
I am certainly not saying that you shouldn't have ad income as part of your business. If you have a blog and you are doing well in page views, absolutely take the ad income if you can get it. If you have people coming to the blog, you might as well be making that passive income off of them.
The problem comes when you rely solely on the ads. As we well know, one algorithm change can affect your traffic almost instantly. If that happened tomorrow, how much of your income would you lose if you were solely relying on those ads?
What about the affiliate income? I certainly have affiliate income in my business and I don't plan to stop any time soon. But let's face it, affiliate percentages can be awfully low, especially through some of the major companies like Amazon. Earning 5-8% isn't a great way to build your income quickly.
Let's chat about the type of income I am known for: sponsored posts. Obviously, I think that every blogger can benefit from partnering with brands to increase their income. But there will be times when the brand you've been working with might not have the budget to work with you for a month or two. Sponsored work can also be seasonal depending on the types of brands you work with.
The point here is that relying on any combination of the above methods of income isn't wrong. But if you are completely dependent on others and their businesses to bring in your income, you need to give some serious thought to creating and selling your own digital products.
What Should You Create as a Digital Product
I can hear some of you saying, "Well, that's great, Jenny. I am all for increasing my forms of income. But how am I supposed to know what kinds of digital products I should be creating?"
The answer is: your audience.
That's right, your audience. If you have been blogging for a little bit, you should know exactly what your audience comes to you for. You simply create the product that you know your audience needs and you sell it at a price point that you know they can handle.
One of the great things about creating digital products is that you create the product once and then you sell it over and over again.
Obviously, you can't just slap together a product and call it good and hope your audience will buy it. It doesn't work that way. You need to know what your audience needs. What is your audience asking you for? What are they telling you they need?

What Types of Digital Products Sell?
Once you know who your audience is and what their needs are, you are ready to create a digital product. But what kinds of digital products sell? Let's go over 6 types of digital products that you can create to increase your income.
Printables
One fantastic digital product is printables. You can create printables that a customer can print off once or multiple times. I purchase printables all the time. I recently downloaded an amazing printable for Halloween called "You've Been Booed." Maybe you saw me talking about it in my Instagram stories.
It was a simple, free printable and it was something I wanted to do with my neighbors so I gladly would have paid for it. Now, would I have paid $20 for it? Nope. I would have gone to the trouble of making one myself. But I'll tell you this; I would have paid $3 for it.
If you create printables, I want you to begin to think about how you could put that into a bundle.
You need to start with what is driving traffic to your blog. If it's printables, think about how you can bundle them or start charging for your most popular ones.
Templates
Listen to me, people are always looking for ways to make their lives simpler. I pay for templates on a regular basis. Again, keep in mind the market value, so I am not going to pay $25 for a template. But I might pay $25 for a bundle of templates if I know I will use several of them more than once.
These types of products are the way you introduce your audience to the idea of buying from you. These are called tripwires. You get them to buy a lower-priced product from you, maybe more than once, and later, you've built up enough trust that they will purchase larger, more expensive products from you.
What kinds of templates can you create? Maybe you are a personal finance blogger and you could create a template for your audience to create a monthly budget. This can be as simple as a Excel spreadsheet that they can print off or download so that they can input their numbers.
Workbooks
Don't be afraid of the word "workbook." This doesn't have to be something complicated. Again, back to the finance blogger. Maybe you create a workbook that takes your audience step-by-step through how to create a budget and begin to eliminate debt. Or if you're an organizing blogger, you could create a decluttering workbook, taking your audience member through her house one room at a time and decluttering along the way.
Now, think back to the printables and templates. Remember how I said I wouldn't pay a whole lot for a printable or a template? The thing is, the market value on a workbook is much higher. So, you can sell that workbook for significantly more than you could a one-page printable.
Video Training
Did I surprise you with this one? Do you tend to think of digital products as only things that people can print out? I want you to think outside the box! Video trainings can be great digital products.
Again with the pricing thing – wouldn't you be willing to pay more for a video course than you would for a simple template? So would I!
But what if you created a template and then a video that walked the buyer through exactly how to use it? Now you are raising the market value even more. Always take your idea and try to take it to the next logical step that increases the value.
Live Training
One step above video training is live training. If you are like me and hate editing, live video might be a great way for you to sell a digital product.
Live video gives you a great opportunity to interact with your audience and allow them to get to know you better.
Let's talk about some types of live trainings you might do. If you're a food blogger, you could do a series of lives that teach people how to use different items in their kitchen like an Instant Pot. What are you known for? What does your audience come to you for? What can you teach them? What can you demonstrate in a live class?
Online Courses
I think a lot of people automatically think about courses when they think of digital products. The great thing about a course is that it walks you through an entire subject or part of a subject. A course gives you the nitty-gritty details along with assignments and plenty of background information.
For example, you may have taken my course, Pitch Perfect Pro, which walks you step by step through the entire process of learning how to reach out to brands, get sponsored campaigns, and how to extend the relationship with the brands to get long-term contracts.

Pricing Digital Products
Please know that you absolutely do not have to limit yourself to one product. Think about all the things I talked about here. You could make a combination of any of these things. You could also use the smaller value items as a tripwire before selling the higher priced products.
When deciding how to price your products, pay attention to what your specific audience can afford and the market value of the product you create.
My course, Pitch Perfect Pro, is a course that teaches you how to increase your income through sponsored partnerships. The fact that it seeks to help you increase your income gives it a higher value to some people than, say, a productivity course. The productivity course may not give me a direct return on my investment so I might not be willing to spend as much on it.
Ask yourself – are you giving basic, everyday types of strategies or are you teaching "change your life" mindset types of things? This will affect what people are willing to pay for your product.
Be sure to go download your free Product That Sells Starter Guide today! This guide will give you my 5-point checklist for creating a sales funnel that keeps on converting, a sales funnel worksheet, and an invitation to my private Facebook group.
And then, during the week of November 12th, I am hosting a FREE 5-day training called 5 Days to Your Next Product that Sells.
If you've ever participated in my 5-day challenge, Pitch Perfect Live, you know that I don't hold anything back in my challenges. These are real trainings and you will walk away with action steps that you can use right away.
In this new challenge, I will walk you through exactly what product you are going to create and how to go about creating it. Registration is open now so save your seat!
Action Steps: