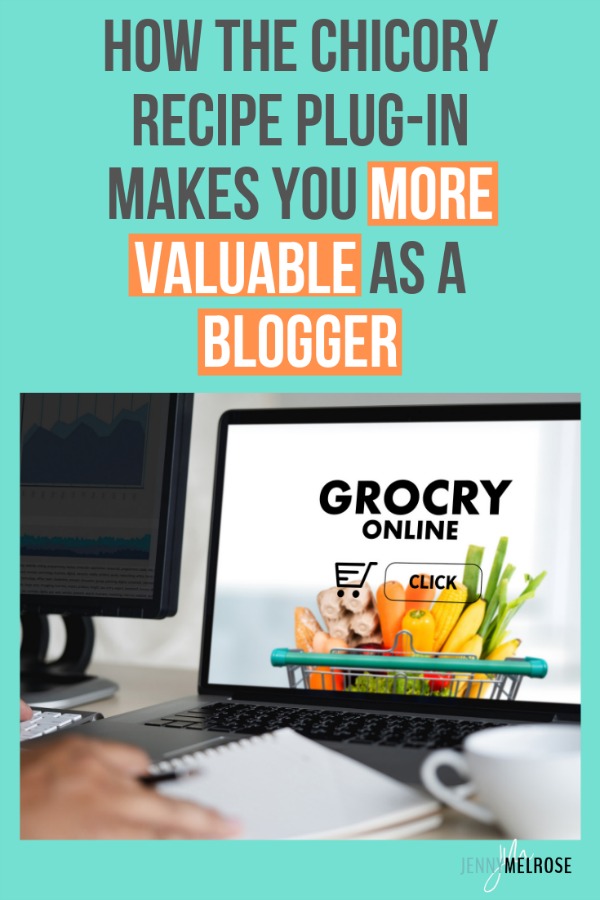 There are numerous ways to monetize your blog as a blogger, but one of the easiest and most user friendly ways is through the Chicory recipe plug-in. The plug-in makes your recipes easily shoppable for your audience.
IE 119: How the Chicory Recipe Plug-In Makes You More Valuable as a Blogger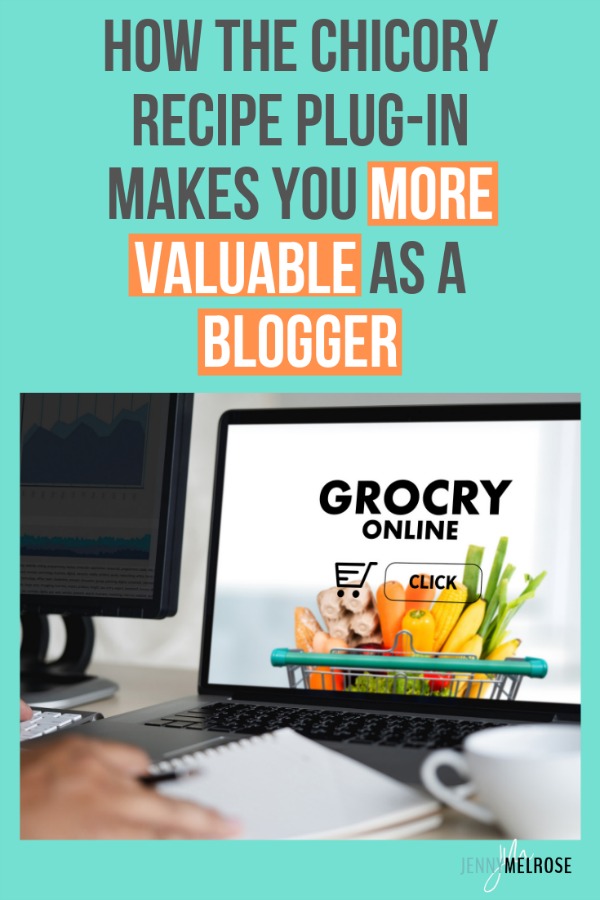 My guest today is Hillary Reeves. Hillary has been the marketing director at Chicory for 4 years.
If you aren't familiar with Chicory, they are a food tech company based in New York City. The company began by making recipes shoppable and that remains the core of their business today.
Sites like Betty Crocker, Perdue, Hershey's Kitchens, Food and Wine, and more use the Chicory plug-in to make the ingredients for the recipes they share shoppable.
Chicory partners with online grocery stores such as Amazon Fresh, Instacart, etc., so that you can simply click the Chicory button on any recipe and have the ingredients for that recipe delivered to your door.
They have grown to include ad revenue opportunities for bloggers. They currently work with thousands of food blogs to provide ad revenue.
I have personal experience using the Chicory plug-in as I began using it when it first came out on my lifestyle site, The Melrose Family.
Benefits of Using Chicory on Your Blog
When Chicory first started as a business, their goal was to be on as many food sites as possible. Hillary spent her time building relationships with bloggers and large food sites in order to grow that aspect of the company.
At the time, online grocery delivery was not available as widely as it is today so the company knew that they needed to explore other ways for food bloggers to earn money.
This is what led them to adopt the advertising model.
Here's how it works (and it's fascinating, by the way)…
Let's say you have a smoothie recipe that calls for ½ cup of Greek yogurt. Chicory will insert an ad from a yogurt company they work with right into the recipe, and through their shoppable technology, that ad for the yogurt is clickable.
This benefits both the brands and the blogger. The brands benefit by having their ads in your evergreen content so that readers will see them over and over.
As a blogger, you benefit by getting paid for the ads as you grow your organic traffic. You also receive the affiliate sales for the shoppable links.
Setting Up Chicory on Your Site
I'm going to be completely transparent with you all…I hate tech.
Technology has been one of the biggest hurdles for me in the years I've been blogging. Nothing trips me up like having to deal with tech.
Chicory is super simple to use and install. They have a WordPress plug-in that you simply install and activate.
Chicory is also a partner with Mediavine so you can turn it on in your Mediavine dashboard as well. Their technology scans every page of your site, making sure that each recipe you share is readable and that the ingredients are able to be shoppable.
If you happen to blog on another platform like Squarespace or Blogger, a simple line of code placed in your header will do the same thing as the WordPress plug-in. Again, it couldn't be easier to install and set up.

The Mobile Experience Using Chicory
Chicory works to stay up-to-date with technology and recently updated its mobile experience.
The mobile experience looks very similar to what you'd see on a desktop. And since the research shows that the majority of people are looking at recipes on their devices, Chicory is constantly updating their tech to keep up with the behavior of the readers.
The surprising piece is that while most people are looking at the recipes on their mobile devices, 60% of the orders placed through the Chicory plug-in are on desktop or laptop.
The way the mobile site works is if you click on a recipe ingredient to purchase it, the site that you are shopping will open in a new tab in your browser instead of opening an app provided by the seller.
This allows you to go back and forth between the recipe and your cart without losing anything.
Increasing Conversions with Chicory
The placement of the ads within the recipes allows for passive income but the team at Chicory watches and tracks trends in online grocery shopping as well so as to continue to improve the user experience.
They track the types of recipes that are trending and how people shop for ingredients vs. viewing recipes.
Later this year, they plan to release updates to their dashboard so that the blogger can also track how their readers are shopping their own recipes.
Some of the trends that Chicory is currently seeing are that the ingredients that are purchased through the plug-in are more make-ahead and pantry-style ingredients.

Most buyers shop on Sundays for the week ahead or on Fridays for the weekend to come.
When considering content preparation, think about what holidays are coming up or creating menu plans for a week at a time.
Specialty Items and Weekly Groceries
There are two types of shopping going on that the team at Chicory sees: those folks who purchase their pantry items and those who purchase specialty items.
For example, if you have a recipe that requires a certain spice that the reader doesn't have in their cabinet, they will likely purchase it through the plug-in.
When it comes to specialty items, they see success especially around the holidays. For example, at Christmastime, they were promoting a very special, higher-priced vanilla.
People are baking more at that time of year and they want to impress their families or guests with their baked items so they are willing to buy a special ingredient like pricey vanilla in order to take their cookies up a notch.
You, as a food blogger, can profit from these items. You need to be creating recipes and content based on the trends.
How to Get Started with Chicory
If you're fascinated by the tech and want to begin experiencing the benefits of using Chicory for your blog, there are several ways to get started.
First, if you are a member of Mediavine, you have access to it in your dashboard. If your blog is hosted on WordPress, you can simply search for the Chicory plug-in in the WordPress store.
You can also visit Chicory online and click on Publishers for a video walkthrough of the product. And lastly, you can email Chicory at hello@chicory.co and you will likely receive an answer in just a few minutes.
In order for the Chicory tech to work, the recipe must be in a recipe card.
Action Steps: