Whether you've been blogging for years or you're just getting started, I know you've seen the crazy number of conferences available for bloggers. There are just so many to choose from. We're going to dive into blogger conference expectations to have. Today, I want to talk about some of the ones I have attended and also try to list some that I know about but haven't attended personally.
I'll start by giving you some tips on the blogger conference expectations you should have when attending a conference and ways to approach a conference so that you get the most out of any that you attend.
IE 77: Blogger Conference Expectations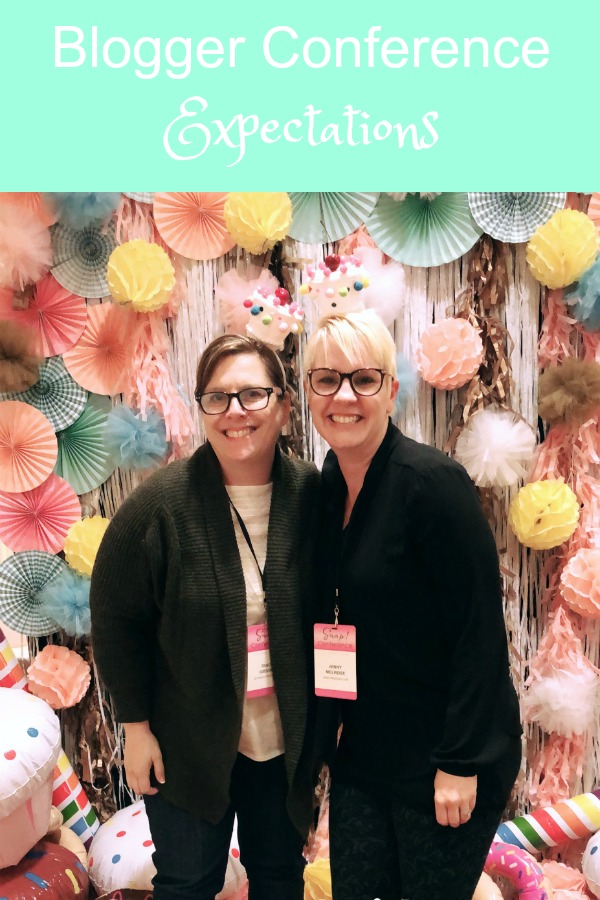 Tip #1 Blogger Conference Expectations: Know Why You're Going
Before you sign up for any conference, ask yourself why you're going. Are you hoping to network with other bloggers? Are you wanting to build your tribe? Are you trying to learn the ways that other bloggers in your niche are doing things?
Or are you looking for brands to pitch? Are you hoping to build a relationship with a certain brand who will be at that conference? Maybe you just want to soak up some knowledge and learn some new things.
There isn't anything wrong with any of those reasons. They're all perfectly valid reasons to attend a conference. You just need to name your reasons and decide on them because that will help you choose which ones to attend.

Tip #2 Blogger Conference Expectations: Set Your Goals
Conferences can be set up in different ways. Some are purely for education. Some have tons of brands present so that you can network with them and get business cards exchanged. What you need to do before you go to a conference is to set specific goals and follow through with them.
What is your purpose? Go back to the reason you are attending. If your goal is to connect with brands in order to pitch them afterward, set a goal to meet 10 different brand reps. If your goal is to network with other bloggers, set a goal of getting the email addresses of 10 other bloggers, follow them on social media, and plan to reach out and build the relationship once you get home. If you are going to learn, set a specific goal for the things you want to learn about. Are you confused about Facebook or wondering how to grow your IG following? Sign up for those sessions and take notes.
Tip #3 Blogger Conference Expectations: Know the Niche
Some conferences cover the overall topics that all bloggers are interested in but others are niche specific. For example, the Everything Food conference is very obviously for food bloggers while the SNAP conference is for craft bloggers and DIY'ers.
It's important to know before deciding on a conference if it fits your niche. If you're a lifestyle blogger like I am, then it'll be easier to mold yourself to a lot of different conferences. But if your niche is tighter than mine, you'll need to attend a more niche-specific conference. If you blog about being a florist, you will not get as much out of attending a conference for food bloggers.
Tip #4 Blogger Conference Expectations: Do Your Research on Brands Attending
If you are going to a conference where many brands will be present and your goal is to make connections with some of those brands, you need to do your research ahead of time on those brands that you want to connect with.
For example, the Everything Food conference has a heavy brand presence because the founder, Kami, works very hard to get the brands there. They actually have a designated space for meeting bloggers and the brands demonstrate their products while you watch.
If your goal is to work with brands and you're thinking about attending a conference with few brands attending, you may want to rethink that decision and choose a conference with more brands present. Also be sure that the brands who are attending would fit with your audience.
Tip #5 Blogger Conference Expectations: Consider the Size of the Conference
If you are like me and you get overwhelmed in large crowds, you may want to attend a smaller conference for your first one. There are conferences that cater to a smaller crowd that would be a perfect fit for you if you want to keep it small.
Blog Life University is a great example of a smaller conference. They cap attendance at under 100 people. The Everything Food conference was much larger with over 600 attendees this year. Another thing that makes a difference is how many people you know. I was comfortable at Everything Food even though it was large simply because, after so many years as a lifestyle blogger, I know a ton of food bloggers.
When I attended the Alt Summit with 1000 attendees, I was completely overwhelmed. Why? Because I just don't know many fashion bloggers. So know ahead of time what you want your first one to feel like and choose accordingly.

Tip #6 Blogger Conference Expectations: Who Are the Speakers?
Before you attend any conference, you need to know who the speakers are and whether or not they will be speaking on something you need to learn about. Let me give you an example-
I attended Business Boutique in Nashville for one reason and one reason only: Amy Porterfield. I wanted the opportunity to hear Amy in person and it was so worth it but the surprise to me was how much I got out of the conference overall. And that's how it goes sometimes; you get more out of a conference than you expected.
Tip #7 Blogger Conference Expectations: What Sessions Are Being Offered?
Some larger conferences have several breakout sessions at the same times and you have to choose which ones you want to attend. Others are set up to keep everyone together the entire time. Yet others are set up "roundtable" style. You move from table to table learning from the speaker at that table.
If you tend to suffer from FOMO (fear of missing out), you are going to want to have a plan going in of which sessions you will attend if you are at a conference with a lot of choices. If you have a tendency to get overwhelmed when you have a ton of choices in front of you, make those decisions before you get there.
Blogging Conferences You Should Consider
At the time this episode airs, we are halfway through 2018 and so some of the conferences I mention have already happened for this year. That just means you can start planning for next year!
SNAP

was held in Salt Lake City in 2018 and is primarily for crafters, DIY'ers, and creatives.
MOM 2.0

is one that some of my members have attended and enjoyed.
Everything Food

is one that I already mentioned and one that I have attended. This was held just outside Salt Lake City and I can't recommend it highly enough.
Indulge

is also held on the west coast and is more for food bloggers. It's over for this year but watch the website for 2019 details.

And announcing…..
Influencer Entrepreneurs Academy.
That's right! I am hosting my very first conference in 2019 right here in Charlotte, NC. The conference is taking place April 2-4, 2019. Early bird ticket prices are now available HERE!
The conference will kick off with a cocktail party on beautiful Lake Norman. One of the things my conference will focus on is getting people together that might not find each other otherwise. I have a gift of pairing people up who I know would be great mastermind or accountability partners for each other and I will be doing that at the conference.
You will be put into a mastermind group as soon as you arrive and you will remain with that group throughout the entire conference. This will give you the opportunity to discuss all that you are learning with your group and ask questions. Every time a speaker is finished with their presentation, you will have 30-45 minutes to workshop through what you've just learned. This stops overwhelm and allows you to put into practice what you're learning. You will go home with a binder full of personalized strategies.
This conference will be capped at 100 attendees so if you think it's the one for you, be sure to tune in on July 10th at 11:00 am to grab your tickets.
Action Steps: